HansaManuals Home >> Standard ERP >> System >> Settings
Previous Next Entire Chapter in Printable Form Search
This text refers to program version 4.0
Company Info
This setting is used to enter your company's name and address, and other particulars such as phone and fax numbers, and the bank and bank account number. This will be printed as appropriate on all documents.
To open the Company Info setting, double-click on 'Company Info' in the 'Settings' list. The 'Company Info: Inspect' window is opened. When the window is complete, confirm the entry by clicking [Save], or cancel it by closing the window using the close box.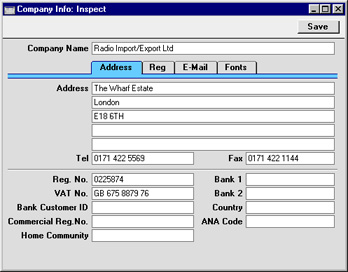 Enter the Company Name, Address etc, then turn to the
'Reg'
card.