HansaManuals Home >> Standard ERP >> Stock >> Settings
Previous Next Entire Chapter in Printable Form Search
This text refers to program version 5.1
Freight Companies
If your company is one that uses courier or haulage companies to deliver goods to your Customers, to receive goods into stock or to move stock from one Location to another, you can record those companies in this setting. When you enter a
Delivery
,
Goods Receipt
,
Returned Goods to Supplier
or
Stock Movement
, you can specify a Freight Company on the 'Freight' card, and the information from this setting can be printed on documentation. In the case of the Delivery, this is a legal requirement in some countries.
Click the [Settings] button in the Master Control panel or select 'Settings' from the File menu to open the 'Settings' list. Double-click 'Freight Companies' in the list. The 'Freight Companies: Browse' window lists the Freight Companies that have already been entered: double-click one to modify it or click [New] to create a new record. When the record is complete, click the [Save] button in the Button Bar to save changes and close it using the close box, or click the close box if you don't want to save changes.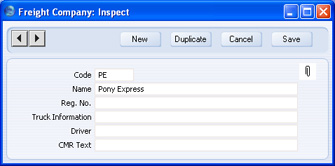 Code


Enter the unique code by which the Freight Company is to be identified from elsewhere in HansaWorld Enterprise. The Code may consist of up to five characters, and you can use both numbers and letters.


Company


Record the name of the Freight Company here.


Registration No.


The Company Registration Number of the Freight Company is entered here.


Truck Info


Use this field to record any relevant information regarding the Freight Company's delivery vehicle (e.g. its registration number).


Driver