HansaManuals Home >> Standard ERP >> Purchase Orders >> Purchase Order Register
Previous Next Entire Chapter in Printable Form Search
This text refers to program version 5.3
Entering a Purchase Order
To open the Purchase Order register, first ensure you are in the Purchase Orders module, then click the [Purchase Orders] button in the Master Control panel.
The 'Purchase Orders: Browse' window is opened, showing Purchase Orders already entered.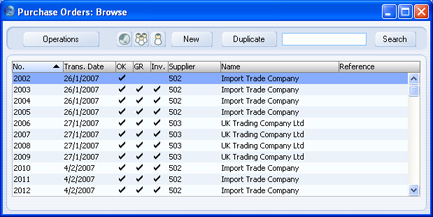 Purchase Orders are shown sorted by Purchase Order Number. You can change the sort order by clicking on one of the other column headings.
Also shown are indications that the Purchase Order has been approved, that the ordered goods have been received and approved in their entirety (in the 'GR' or 'Goods Received' column) and that a Purchase Invoice has been received and approved (in the 'Inv' column), and the Supplier number and name.

The functions on the Operations menu are described here.

HansaWorld Enterprise provides several shortcuts to simplify your work with entering Purchase Orders. You can for example use the 'Paste Special' function (Ctrl-Enter or ⌘-Enter) to bring a date into a date field or to enter Item Numbers, Customer Numbers, Payment Terms etc.

To enter a new Purchase Order, click [New] in the Button Bar or use the Ctrl-N (Windows and Linux) or ⌘-N (Macintosh) keyboard shortcut. Alternatively, highlight a Purchase Order similar to the one you want to enter and click [Duplicate] on the Button Bar.

The 'Purchase Order: New' window is opened, empty if you clicked [New] or containing a duplicate of the highlighted Purchase Order.