HansaManuals Home >> Standard ERP >> Nominal Ledger >> Settings
Previous Next Entire Chapter in Printable Form Search
This text refers to program version 5.3
Template Transactions, Template Transactions - Accounts
The Template Transactions setting provides you with a alternative method of entering Nominal Ledger Transactions. This method is commonly used in Denmark. To use this method, follow these steps:
This first step is optional. Use the Template Transactions - Accounts setting to specify up to four Accounts whose balances you want to be visible each time you enter a Template Transaction. You can enter one record to this setting for each user.


Use 'Paste Special' to choose the Person and the four Accounts.

The next step is to enter the Template Transaction itself. You can use various methods when entering a Template Transaction. In all cases, the Template Transaction must balance before you can save it (i.e. the figure in the Total field in the bottom right-hand corner must be 0.00). The various methods are:


You can enter the individual journal postings on separate rows. In the example illustrated below, Account 355 will be debited and Account 700 will be credited. You can choose the Accounts using 'Paste Special'.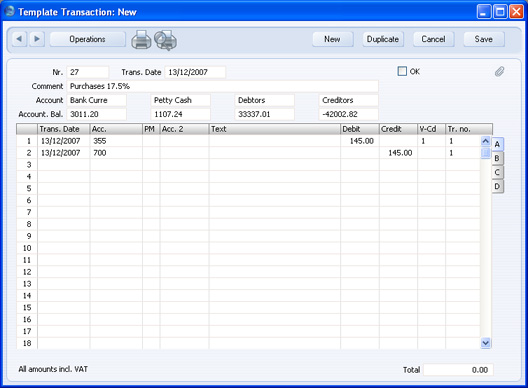 In this example, a VAT Code was brought in automatically from the Account record when we entered Account 355. It is also possible to enter a VAT Code manually. If there is a VAT Code, the amount in that row (145.00 in the example) should include VAT.


In a more complex Template Transaction with many rows, you can enter a balancing amount by placing the insertion point in one of the rows and selecting 'Balance Transaction' from the Operations menu. The Debit or Credit value in that row will be changed, to ensure the Template Transaction balances.

If two journal postings balance each other exactly, you can enter them both in a single row: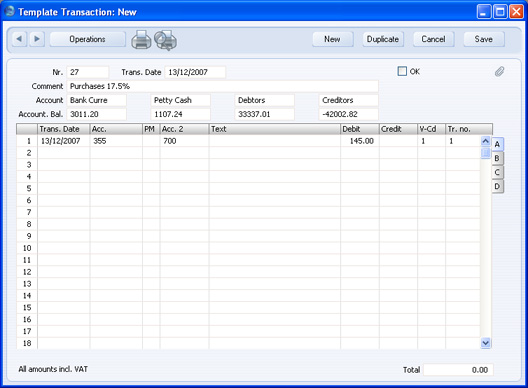 In this example, the amount is in the Debit field. This means it will be debited to the Acc. (Account 355 in the illustration) and credited to the Acc. 2 (Account 700 in the illustration). If the amount was in the Credit field, it would be credited to the Acc. and debited to the Acc. 2. You can choose the Acc. and the Acc. 2 using 'Paste Special'.


As in example (i), a VAT Code was brought in automatically from the Account record when we entered Account 355. It is also possible to enter a VAT Code manually. If there is a VAT Code, the amount in that row (145.00 in the example) should include VAT. If one of the Accounts has a VAT Code, you must enter this Account in the Acc. field, not the Acc. 2 field. If both Accounts have VAT Codes, use method (i).


If the Template Transaction affects the B