HansaManuals Home >> Standard ERP >> Sales Ledger >> Settings
Previous Next Entire Chapter in Printable Form Search
This text refers to program version 8.0
Freight/Weight Calculation
If you would like to attach a freight charge to all Orders and Invoices automatically, calculated from the total weight of the Items sold, use this setting to define the calculation formula. The result of the calculation will be added to all Orders and Invoices: it will be shown in the Freight field on the Del. Terms' cards of the
Order
and
Invoice
windows.You must select the Use Freight/Weight Calculation, not the Percentage option in the
Freight
setting if this calculation formula is to be used. You should also specify an Item in the
Freight
setting: this will ensure the correct VAT Code and Sales Account will be used for the freight charge.
To work with this setting, first ensure you are in the Sales Ledger and then click the [Settings] button in the Navigation Centre or use the Ctrl-S/⌘-S keyboard shortcut. Double-click 'Freight/Weight Calculation' in the resulting list. The 'Freight/Weight Calculation: Inspect' window opens. Complete the window as described below the illustration and, when finished, click the [Save] button in the Button Bar to save the changes. To close the window without saving changes, click the close box.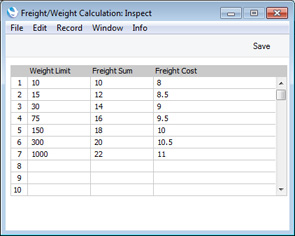 Enter the Weight Limit for each price break, together with the amount to be charged to the Customer (in the Freight Sum field) and the amount to be included in Gross Profit calculations (in the Freight Cost field).
In the example illustration, freight will be charged as follows:

| | |
| --- | --- |
| Weight | Freight Sum |
| Under 10.00 | 0.00 |
| 10.00-14.99 | 10.00 |
| 15.00-29.99 | 14.00 |
| 30.00-74.99 | 16.00 |
and so on.

You can use any unit of measurement in the Weight Limit field, but take care to use the same one here and when entering the weights of Items (in the Weight field in each Item record).

---

Settings in the Sales Ledger:

Freight/Weight Calculation

Go back to: