HansaManuals Home >> Standard ERP >> Sales Ledger >> Settings
Previous Next Entire Chapter in Printable Form Search
This text refers to program version 8.1
Factoring Export
The
'Invoices for Factoring'
Export function will be useful if your company is one that passes its Invoices to a factoring company for payment. This creates text files that you can send to the factoring company.
The Factoring Export setting contains various options that you can use to control the operation of the 'Invoices for Factoring' function.

To open the Factoring Export setting, first ensure you are in the Sales Ledger. Then, if you are using Windows or Mac OS X, click the [Settings] button in the Navigation Centre to open the 'Settings' list and then double-click 'Factoring Export' in the list. If you are using iOS or Android, select 'Settings' from the Tools menu (with 'wrench' icon) and tap 'Factoring Export' in the 'Settings' list. The 'Factoring Export: Inspect' window opens. Make any changes as necessary and, when the record is complete, click the [Save] button (Windows/Mac OS X) or tap √ (iOS/Android) in the Button Bar to save changes and close the window, or click the close box (Windows/Mac OS X) or tap < (iOS/Android) if you don't want to save changes.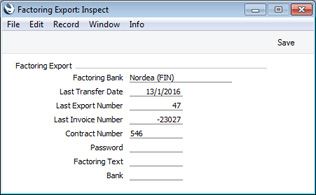 Factoring Bank

Paste Special
Choices of possible entries
The 'Invoices for Factoring' Export function in the Sales Ledger is capable of creating files in many different formats suitable for sending to many factoring companies. Use this field to choose the format that you need. Beginning here, details about each Factoring Bank are provided. If your factoring company is not in the 'Paste Special' list, please contact your local HansaWorld representative.


In Finland, the format of the payment reference or viitenumero in each Invoice depends on the Factoring Bank specified here. If you do not use factoring, you should choose "No Factoring" here so that payment references will be formatted correctly.

If your Factoring Bank is "SG Finans (NOR)", then you should also specify "Norway - SG Finans" as the Bank of on the 'OCR' card of the Bank Transfer setting in the Purchase Ledger. This will ensure the KID Codes in the export files will be in the correct format.


Last Transfer Date, Last Export Number


These fields will be updated automatically each time you run the 'Factoring Export' Export function and can't be changed.


Contract Number


Enter your contract number with the Factoring Bank here. When you run the 'Factoring Export' function, this Contract Number will be copied to the Client ID field in the 'Specify Invoices for Factoring' window. If the Client ID field is empty, the export will not proceed.


Factoring Text

Paste Special
Standard Text register, CRM module


If the Factoring Bank is "Finvoice (FIN)", choose a Standard Text record using 'Paste Special'. The Text in this record will be exported in the <FactoringFreeText> tag.


Bank

Paste Special
Banks setting, Purchase Ledger


If the Factoring Bank is "Finvoice (FIN)", specify here the record in the Banks setting that represents your Factoring Bank. Please refer here for details of what this Bank record should contain.
---
Settings in the Sales Ledger:

Go back to: