HansaManuals Home >> Standard ERP >> Purchase Ledger >> Reports
Previous Next Entire Chapter in Printable Form Search
This text refers to program version 8.1
P/L VAT Code Statistics
This report contains information about VAT paid to each Supplier. The report is designed for use in countries where detailed VAT reporting is necessary.
The report is a list of Purchase Invoices from the report period, concentrating on the VAT in each one. For each Purchase Invoice, the header information is first shown, including the Purchase Invoice Number, the Supplier's Invoice Number, Transaction and Invoice Dates, Supplier Number, Supplier VAT registration number and Supplier address. This is followed by a VAT breakdown of the Purchase Invoice. The VAT Codes used in the Invoice are listed, showing for each one the total including VAT, the total excluding VAT, the VAT percentage and the VAT total. At the end of the report, totals for each VAT Code are shown.

The Purchase Invoices listed in the report depend on whether you are using the Post Payment VAT option in the Account Usage P/L setting in the Purchase Ledger. If you are not using this option, the report will list the Invoices received during the report period. If you are using this option (i.e. your VAT calculation is based on Payments rather than Invoices), the report will list the Purchase Invoices paid during the report period.

When printed to screen, the P/L VAT Code Statistics report has the Standard ERP Drill-down feature. Click (Windows/Mac OS X) or tap (iOS/Android) on any Purchase Invoice Number to open an individual Purchase Invoice record.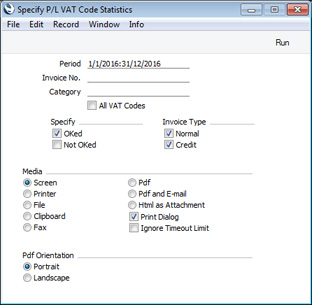 Period

Paste Special
Reporting Periods setting, System module


Enter the start and end dates of the period covered by the report.


Invoice No

Range Reporting
Numeric


Enter an internal Purchase Invoice Number or a range of Numbers separated by a colon (:) here if you would like specific Purchase Invoices to be shown in the report.


Category

Paste Special
Supplier Categories setting, Purchase Ledger


To restrict the report to Suppliers belonging to a single Supplier Category, enter a Category Code here.


All VAT Codes


By default, the report shows for each Purchase Invoice the VAT Codes used together with the VAT percentage and totals including and excluding VAT. If you would like to show for each Purchase Invoice all VAT Codes, including those not used by the Invoice, use this option.


Specify


Use these options to specify whether the report should list Purchase Invoices that have been marked as OK, those that have not been marked as OK, or both.


Invoice Type


Determine here whether Normal and Credit Notes are to be included in the report. Cash Notes are included as Normal Invoices for this purpose.
---
Reports in the Purchase Ledger:

Go back to: