HansaManuals Home >> Standard ERP >> Stock >> Settings
Previous Next Entire Chapter in Printable Form Search
This text refers to program version 8.1
Item Varieties
This page describes the Item Varieties setting in the Stock module.
—

Before working with the Item Varieties setting, you should enter some Item Variety Groups as described here. You can then use the Item Varieties setting to list the Varieties themselves i.e. to list the different Varieties that you sell.

To define a new Item Variety, first ensure you are in the Stock module using the [Switch Module] button in the Navigation Centre. Then, if you are using Windows or Mac OS X, click the [Settings] button that's also in the Navigation Centre and double-click 'Item Varieties' in the resulting list. If you are using iOS or Android, select 'Settings' from the Tools menu (with 'wrench' icon) and tap 'Item Varieties' in the 'Settings' list. The 'Item Varieties: Browse' window will appear, showing the Item Varieties that you have previously entered. You can add a new record by selecting 'New' from the Create menu (Windows/Mac OS X) or the + menu (iOS/Android). When the record is complete, save it by clicking the [Save] button (Windows/Mac OS X) or tapping √ (iOS/Android) in the Button Bar. To close it without saving changes, click the close box (Windows/Mac OS X) or tap < (iOS/Android).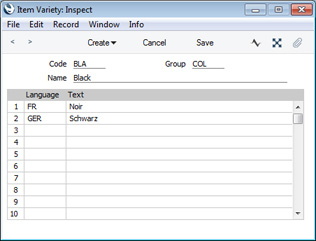 Code


Enter a code by which the Item Variety can be identified.

If you specified a number of characters in the Code Length field in the parent Variety Group, you should enter a Code consisting of exactly that number of characters. The example Variety shown above belongs to the Variety Group illustrated on the Item Variety Groups page and so has a three-character Code. When entering the Variety Group in the field to the right, the required number of characters will be shown in the 'Paste Special' list as a reminder.

If you entered a full stop in the Code Length field in the parent Variety Group, you can enter up to five characters here (the exact number will not matter).