HansaManuals Home >> Standard ERP >> CRM >> Task Manager
Previous Next Entire Chapter in Printable Form Search
This text refers to program version 8.4
Printing the Task Manager
This page describes printing a list of Tasks from the Task Manager.
---

If you are using Windows or Mac OS X, you can print a list of the Tasks shown in the Task Manager. To do this, choose 'Print' from the File menu (all platforms). You can also click the Printer icon on the left-hand side of the Button Bar.

To print the list of Activities to screen, click the Preview icon.

If you want to print a To Do List for a user and/or period different to those specified in the header of the Task Manager, select 'To Do List' from the Operations menu.

When printed to screen, the list of Activities has the Standard ERP Drill-down feature. Click on the Text of any Activity in the report to open the corresponding Activity record.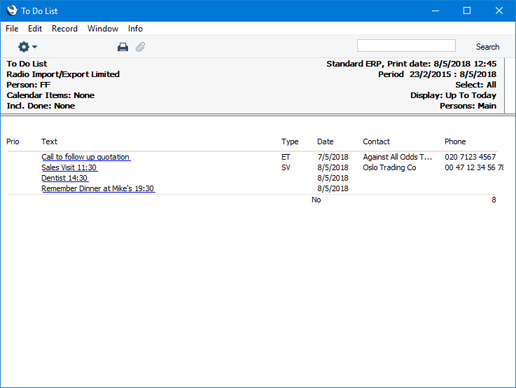 ---
The Task Manager in Standard ERP:

Printing the Task Manager

Go back to: