HansaManuals Home >> Standard ERP >> Stock >> Reports
Previous Next Entire Chapter in Printable Form Search
This text refers to program version 5.1
Aged Stock Analysis
The Aged Stock Analysis report illustrates how long each Item has been in stock. It is calculated on a FIFO basis. The report shows for each Item the Item Number and Name, the total stock level and the stock level for each ageing period, as defined in the specification window. The report supports up to six ageing periods.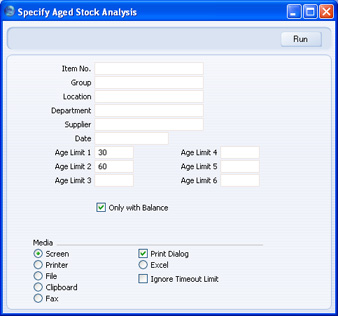 Item No.

Paste Special
Item register


Range Reporting Alpha

Enter an Item Number (or range of numbers) to produce an Aged Stock Analysis report for specific Item(s). Use a colon (:) to separate the first and last number.

Only Stocked Items in the range will be shown (not Plain, Service or Structured Items).


Group

Paste Special
Item Group register, Sales Ledger


Range Reporting Alpha

Enter an Item Group Code to produce a report covering all Stocked Items in a particular Item Group.