HansaManuals Home >> HansaWorld FirstOffice Professional >> Stock Locations Value Pack >> Delivery Register
Previous Next
This text refers to program version 4.3
The Delivery Register and the Stock Locations Value Pack
When you have the Stock Locations Value Pack, you should still issue Deliveries using the
'Create Delivery'
function on the Operations menu of the Sales Order screen. If you specified a Location in a Sales Order, this will be copied to the Delivery: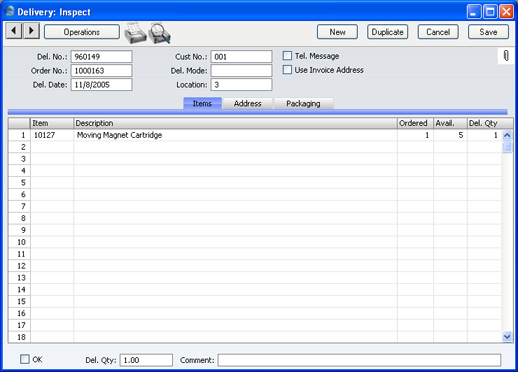 As before, the Delivery record takes its information from the Order, and tries to ship as many Items on the Order as possible. The Location specified on the
'Del Terms'
card of the Order will be copied to the Delivery header. For
Stocked Items
, the stock balance in this Location will be shown in the Avail. field in the grid, and the default quantity in the Del. Qty field will usually be the maximum shippable quantity in the Location. If the Delivery does not have a Location, the Avail. and Del. Qty figures will be calculated using the stock balances from every Location. If you change to another Location, the Avail. and Del. Qty figures will be updated immediately. If you would like the default Del. Qty always to be the ordered quantity not the maximum shippable quantity, even if there is insufficient stock, use the Always Deliver option in the
Stock Settings
setting in the Stock module.
Plain Items are shipped without any checking of stock levels.

If you need to make a part shipment, change the Del. Quantity of one or more rows on the Delivery screen as appropriate. FirstOffice will prevent you delivering more than you have in stock if you have checked the Do Not Allow Over Delivery option in the same setting. You will not be able to deliver more than was ordered.

When you approve a Delivery, the value of the Items listed in the grid will credited to the Stock Account of the Location specified in the header. If this Account is blank, the Stock Account for the Item Group to which the individual Items belong (if you are using the Use Item Groups for Cost Accounts option in the Cost Accounting setting) or the Stock Account from the Account Usage Stock setting will be used. The value of any Plain Items in the Delivery will not be included.
Previous Next Top