HansaManuals Home >> Standard ERP >> Report Generator >> Creating a New Report
Previous Next Entire Chapter in Printable Form Search
This text refers to program version 5.3
Choosing a Print Destination
To specify the default print destination for the new report, change to the 'Settings' card and choose a Default Media option: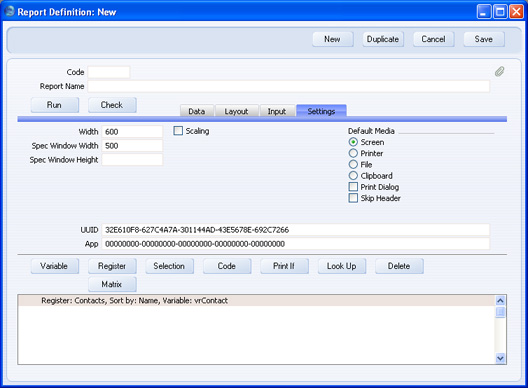 If it is likely that the report will be printed on a printer and you want a print dialogue to appear, check the Print Dialog box (under the Media options). The print dialog will allow the person producing the report to specify, for example, that they want to print several copies of the report.
Usually when you print a report, there will be an section at the top showing the report name, the search criteria used in producing the report, and the print date and time. If you do not want this section to be printed, check the Skip Header box.

Having chosen a print destination, please click here for details about setting the width of the report.