HansaManuals Home >> Standard ERP >> Sales Ledger >> Forms/Documents
Previous Next Entire Chapter in Printable Form Search
This text refers to program version 8.0
VAT Corrections S/L
This form is only available if the VAT Law in the
Company Info
setting is set to "Croatian", "Polish", "Serbian", "Slovenian" or "Ukrainian".
Use this form when you need to print records from the 'VAT Corrections S/L' setting. When the specification window opens, enter the Serial Number (or range of numbers) of the VAT Correction to be printed, and click the [Run] button.

You can also print this form from an individual VAT Correction record by opening it and clicking the Printer icon in the Button Bar.

You can use Access Groups to control who can reprint VAT Corrections. To prevent the reprinting of VAT Corrections, grant Full access to the 'Disallow Printing Copies' Action.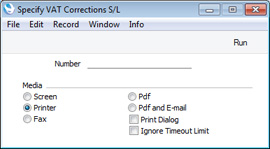 Please click the links below for lists of the fields that you can use when you design the Form Template to be used by the VAT Correction form:
Forms in the Sales Ledger:

Go back to: