HansaManuals Home >> Standard ERP >> Nominal Ledger >> Reports
Previous Next Entire Chapter in Printable Form Search
This text refers to program version 8.0
VAT Report - Printing
Having entered a definition for the VAT Report as described
here
, you will be ready to print the report.Ensure you are in the Nominal Ledger, click the [Reports] button in the Navigation Centre and then double-click 'VAT Report' in the 'Reports' list. The 'Specify VAT Report' window is opened.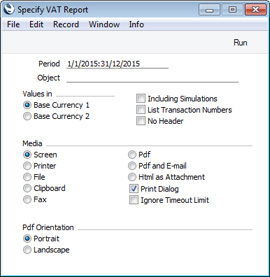 Period

Paste Special
Reporting Periods setting, System module


Enter the period for which you want to print the report in the format 01/02/15:28/02/15. If you are using four-digit years as in the illustration, the leading digits will be inserted automatically. The first period in the Reporting Periods setting will be offered as the default value.


Object

Paste Special
Object register, Nominal Ledger/System module


Specify an Object if you want the figures in the report to be calculated from Transaction rows featuring that Object. If you enter a number of Objects separated by commas, only those Transaction rows featuring all the Objects listed will be included in the calculations.

If you need to print a VAT Report for a specific Object, you should ensure that you are using the Objects on VAT Account options in the Account Usage S/L and Account Usage P/L settings. When a Nominal Ledger Transaction is created from a Sub System record (e.g. from an Invoice or Purchase Invoice), these options will cause any Objects used in the Sub System record to be attached to the VAT posting (as well as to the Sales and Cost Accounts). If you are not using these options, Objects will not be assigned to VAT postings and so the report will not be able to display the balances of the Output and Input VAT Accounts for particular Objects. You will also need to ensure you use the correct Objects when manually entering Transactions that post to the VAT Accounts.


Values in


If you are using the Dual-Base system, use these options to specify whether you would like all values in the report to be expressed in Base Currency 1 or Base Currency 2.

If you are not using the Dual-Base system, use the Base Currency 1 option to produce a report in your home Currency.


Including Simulations


Use this option if you would like Simulations to be included in the report. Simulation rows of "Invalid" and "Transferred" Status will not be included.


List Transactions


If you select this option, the Transaction Numbers of all Transactions that fall within the reporting period, together with debit and credit totals, will be listed at the end of the report.


No Header


Select this option if you want the report to be printed without a header.
Click [Run] to print the report.
---

Please click for details about:

---
Reports in the Nominal Ledger:

---
Go back to: