HansaManuals Home >> Standard ERP >> Nominal Ledger >> Settings
Previous Next Entire Chapter in Printable Form Search
This text refers to program version 5.3
Account Short Codes
Account Short Codes can help reduce errors when selecting Accounts and Objects in Purchase Invoices, Expenses and Stock Depreciations. You can also use them if you do not want members of staff using Purchase Invoices, Expenses and Stock Depreciations to have any access to the
Account
and
Object
registers (which means that they will not be able to use the
'Paste Special'
function to choose Accounts and Objects).
Once you have defined your Short Codes, using the 'Paste Special' function from the Short Code field in a Purchase Invoice, Expense or Stock Depreciation record means the correct Account and Object will be brought in automatically.

To enter a new Account Short Code or to edit an existing one, first open the 'Settings' list by clicking the [Settings] button in the Master Control panel or using the Ctrl-S/⌘-S keyboard shortcut. Double-click 'Account Short Codes' in the list. The 'Account Short Codes: Browse' window is displayed, showing all Account Short Codes previously entered. Double-click a record in the list to edit it, or add a new record by clicking the [New] button in the Button Bar. When the record is complete, save it by clicking the [Save] button in the Button Bar or by clicking the close box and choosing to save changes. To close it without saving changes, click the close box.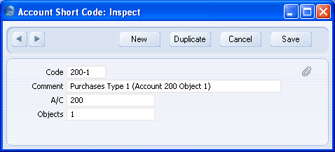 Code


Enter a unique Code for the Short Code. You can use up to five characters.


Comment


Enter a name for the Short Code, to be shown in the 'Account Short Codes: Browse' window and the 'Paste Special' list.


A/C

Paste Special
Account register, Nominal Ledger/System module


Specify here the Account that is to be brought into a Purchase Invoice, Expense or Stock Depreciation record whenever you use this Short Code.


Objects

Paste Special
Object register, Nominal Ledger/System module


Specify here the Object that is to