HansaManuals Home >> Standard ERP >> Nominal Ledger >> Settings
Previous Next Entire Chapter in Printable Form Search
This text refers to program version 5.3
Sub Systems
The integration between different modules in HansaWorld Enterprise means that Nominal Ledger Transactions can be generated automatically when you approve (mark as OK and save) records in other ledgers and modules ("Sub Systems"). For example, when you
approve
an Invoice in the Sales Ledger, this can cause a Nominal Ledger Transaction to be generated automatically, debiting a Debtor Account and crediting a Sales Account and, if appropriate, a VAT Account.
Use this setting to specify when you want this automatic generation of Transactions to be activated, and from which Sub Systems. Double-click 'Sub Systems' in the 'Settings' list to open the following window: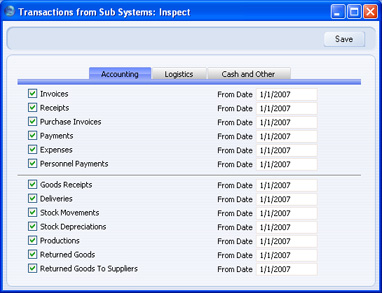 Check boxes containing a tick represent those Sub Systems from which Nominal Ledger Transactions will be generated. Further Sub Systems are shown on the 'Logistics' and 'Cash and Other' cards. Whenever you approve a record (i.e. mark the record as OK and save it) in a Sub System register that you have selected here, a Nominal Ledger Transaction will be generated automatically. Make sure you have specified the Accounts that will be used in these Transactions in the appropriate settings (start with
Account Usage S/L
in the Sales Ledger,
Account Usage P/L
in the Purchase Ledger and
Account Usage Stock
in the Stock module).
Once you have specified that a particular Sub System is to generate Nominal Ledger Transactions, you can make an exception for Sub System records that fall within a particular number sequence. For example, if it is the general case that Invoices will generate Nominal Ledger Transactions when they are approved, you can choose to not have Transactions created for Invoices whose Number falls within a particular range. You should do this using the appropriate Number Series setting for the Sub System in question (Number Series - Invoices in the example). Please refer to the web page describing the appropriate Number Series setting for details.

Use the From Date field to indicate the date from which Transactions are to be generated. This will be useful when you are entering