HansaManuals Home >> Standard ERP >> Items and Pricing >> The Pricing Module
Previous Next Entire Chapter in Printable Form Search
This text refers to program version 8.1
Multi-buy Discounts - Example - Buy any Quantity from Item Set
This example describes using a Multi-buy Discount record to implement a "Buy any three Items for a fixed price" offer. Please refer
here
for full details about the fields in the Multi-Buy Discount record.
The "Buy any three Items for a fixed price" offer will be implemented by the Multi-buy Discount record illustrated below.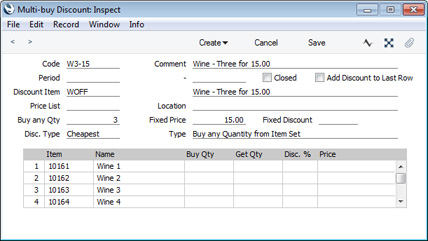 Points to note in this record are as follows:
The Type is "Buy any Quantity from Item Set".

The Disc. Type is "Cheapest". If a Customer purchases four of the selected Items, this means that the three cheapest Items will qualify for the offer and the most expensive Item will be charged at full price.

The offer is "Buy any three Items for a fixed price", so we have entered "3" in the Buy any Qty field.

The fixed price is 15.00, so we have entered "15.00" in the Fixed Price field.

We have listed the qualifying Items in the matrix. To qualify for the offer, a Customer needs to purchase any three of these Items. This can be in any combination: for example, three different Items each with a quantity of one or a single Item with a quantity of three will both qualify.
Follow the usual procedure when entering Invoices and POS Invoices. In the example Invoice illustrated below, we are about to enter a quantity for the third Item:
When we specify the quantity, a new row containing the Multi-buy Discount will be added to the Invoice automatically: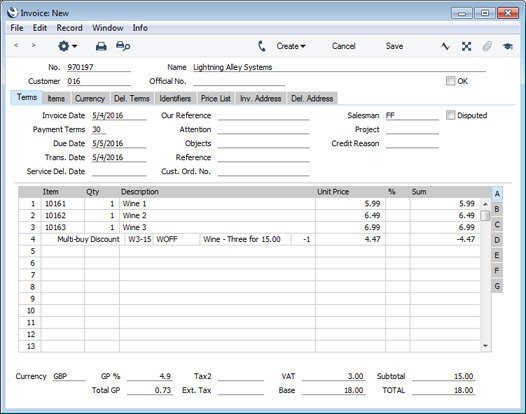 The Disc. Type is "Cheapest" so, if the Customer buys a fourth Item from the list, the most expensive Item will be charged at full price: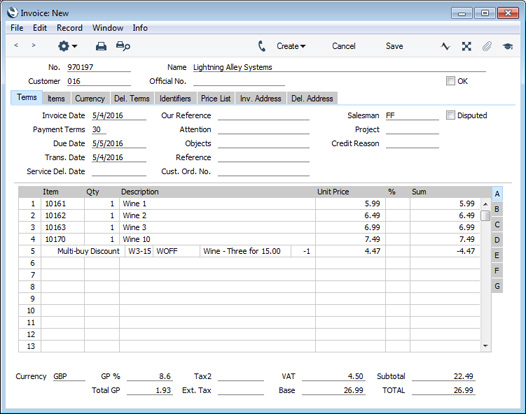 ---
The Pricing module in Standard ERP:

Go back to: