HansaManuals Home >> Standard ERP >> Items and Pricing >> Item Register
Previous Next Entire Chapter in Printable Form Search
This text refers to program version 8.1
Operations Menu - Item - Item Location Status
This page describes the 'Item Location Status' function on the
Operations
menu in the Item record window. If you are using iOS or Android, you can access the 'Item History Status' function through the Tools menu (with 'wrench' icon).
---

The 'Item Location Status' function prints a report to screen listing various sales and stock statistics for the Item currently open in a record window. These statistics are broken down by Location.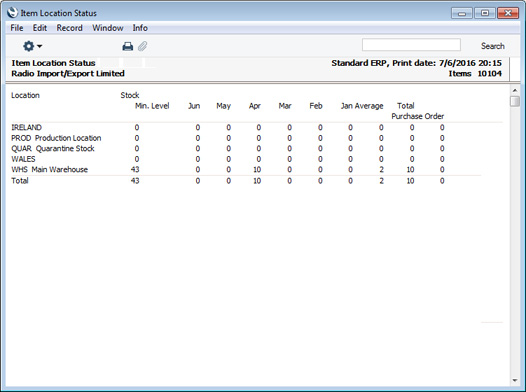 For each Location, the report displays the following figures:
Stock


Current stock level of the Item.


Min. Level


The Minimum Stock Level, from the Minimum Stock Levels setting in the Stock module or from the Item record.


Sales figures


Monthly sales figures for the last six months, followed by the average sales figure per month and the total for the six months. These figures are compiled from Invoices, POS Invoices and Bar Tabs.


Purchase Order


Current unfulfilled Purchase Order quantity of the Item (i.e. the quantity ordered but not yet received, including the quantity in Goods Receipts that have not yet been marked as OK).
---
The Item register in Standard ERP:

Go back to: