HansaManuals Home >> Standard ERP >> Service Orders >> Settings
Previous Next Entire Chapter in Printable Form Search
This text refers to program version 4.2
Serial Number Text
Use this setting to record comments and notes about individual Serial Numbered Items. These comments will be shown where appropriate in the
Service Order Status
report, obtainable from the Operations menu of the Service Order screen.
The 'Serial Number Texts: Browse' window lists the records that have already been saved in this setting: double-click to modify or click [New] to create a new item.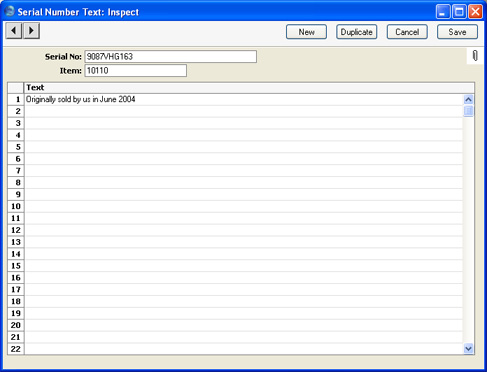 Serial No

Paste Special
Serial Numbers of sold Items and of Repair Items (Known Serial Number register)


Specify the Serial Number of the Item about which comments are being recorded.

If the Item is one originally sold by your business, the Item Number will be brought in to the field below as soon as the Serial Number is specified.