HansaManuals Home >> Standard ERP >> Items and Pricing >> Reports
Previous Next Entire Chapter in Printable Form Search
This text refers to program version 4.0
Item Group List
This report, found in the Stock module, is a simple list of Item Groups.
When printed to screen, the Item Group List has Hansa's Drill-down feature. Click on any Item Group Number to open the corresponding Item Group record.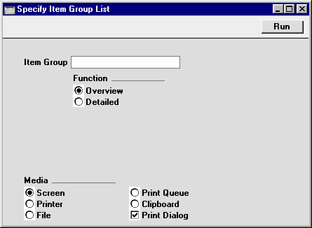 Item Group

Paste Special
Item Group register, Sales Ledger


Range Reporting Alpha

If you need to print the details of a particular Item Group or range of Item Groups, enter the Item Group Code(s) here.


Function


Use these settings to control the level of detail that you would like to be shown in the report.


Overview


This option is a simple list showing the Number and Name of each Item Group.


Detailed


For each Item Group, this option prints the Sales and Stock Accounts, the VAT Codes for each Zone and the Cost Model.