HansaManuals Home >> Standard ERP >> Stock >> Settings
Previous Next Entire Chapter in Printable Form Search
This text refers to program version 5.1
Sources
You can use this setting to store the names and addresses of the original producers of the Items that you sell (e.g. the manufacturers, producers or importers). You can enter a Source on the
'Stock'
card of each Item record, from where it will be transferred to Orders (flip F) and Deliveries (flip D).
The 'Sources: Browse' window lists the available Sources: double-click to modify or click [New] to create a new record.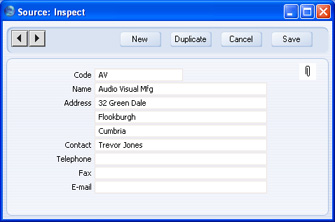 Record the name and address details for each Source as appropriate and click [Save] to save changes.