HansaManuals Home >> Standard ERP >> Stock >> Settings
Previous Next Entire Chapter in Printable Form Search
This text refers to program version 5.1
Locations
HansaWorld Enterprise allows stocks to be kept at several different Locations. Stock balances for items are maintained both per Location and total.
If you have at least one Location, you must specify a Main Location in the Stock Settings setting. This will prevent you having stock that is not in any Location: if you forget to specify a Location in any stock transaction, that stock transaction will add stock to or remove it from the Main Location. This will be useful if you only have one Location. If you have more than one, you may also want to use the Require Location option in the same setting: this will ensure you have to specify a Location in every stock transaction. You can also specify default Locations in the Local Machine setting in the User Settings module and on the 'Bonus' card of each Person record. The first will be used by default in all stock transactions entered on the particular client machine, while the second will be used by default in all stock transactions entered by a particular user.

To open the Locations setting, ensure you are in the Stock module and click the [Settings] button in the Master Control panel or select 'Settings' from the File menu to open the 'Settings' list. Double-click 'Locations' in the list. The 'Locations: Browse' window is opened, showing existing Locations.

To enter a new Location, click the [New] button in the Button Bar. Alternatively, if one already exists that is similar to the one you are about to enter, find it in the list, highlight it and click [Duplicate].

The 'Location: New' window is opened, empty if you clicked [New] or containing a duplicate of the highlighted Location.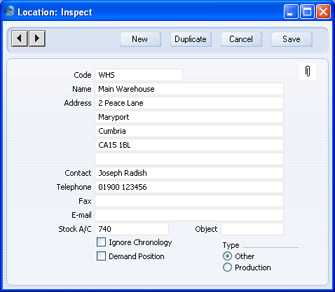 Enter the Code and other information for each Location.
Stock A/C


The Stock Account specified in this field will be debited whenever stock is received into the Location and credited when stock is delivered (providing that, in the Sub Systems setting in the Nominal Ledger and in the relevant Number Series settings, you have specified that Nominal Ledger Transactions will be created when you approve Goods Receipts and Deliveries). If you do not specify a Stock Account in a Location, the Stock Account for the Item Group to which the individual Item belongs or the Stock Account in the Account Usage Stock setting will be used.


Object

Paste Special
Object register, Nominal Ledger/System module


You can assign up to 20 Objects, separated by commas, to a Location. These Objects will be copied to the 'Comment' card of all Goods Receipts and the header of all Stock Depreciations with this Location created by the 'Stocktaking Comparison' Maintenance function. From those Goods Receipts, they will be assigned to the credit postings to the Stock Gain Account (and to the debit postings to the Stock Account if you are using the Supplier Object on Stock A/C option in the setting in the Purchase Ledger). From those Stock Depreciations, they will be assigned to the debit postings to the Stock Loss Account (and to the credit postings to the Stock Account if you are using the Object on Stock Account option in the