HansaManuals Home >> Standard ERP >> Sales Ledger >> Loyalty Cards
Previous Next Entire Chapter in Printable Form Search
This text refers to program version 8.0
Preparing for Loyalty Cards - Loyalty Card Membership Level Structure
Having entered your Loyalty Card Membership Levels as described
here
, you should now draw up your Membership Level Structure.
Remaining in the POS or Restaurant modules, open the Loyalty Card Membership Level Structure setting. The 'Loyalty Card Membership Level Structure: Inspect' window opens: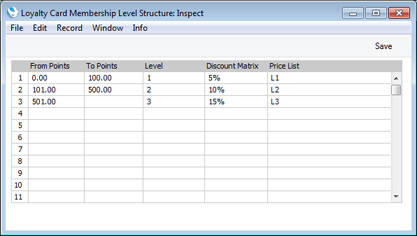 From Points, To Points


The Membership Level of a Loyalty Card is dependent on the number of points that have been accumulated on that Card. Use these fields to specify how many points are required for each Level.

In the example illustrated, there are three Membership Levels: fewer than 100 points, between 101 and 500 points, and 501 points or more. When the accumulated number of points on a Loyalty Card reaches one of the thresholds, the Membership Level of that Card will be changed automatically. For example, a Level 1 Card will be upgraded to Level 2 automatically when it has accumulated at least 101 points.