HansaManuals Home >> Standard ERP >> Point of Sales (WIP) >> Configuring the POS Invoice Window
Previous Next Entire Chapter in Printable Form Search
This text refers to program version 8.3
Adjusting Elements in the POS Invoice Window
This page describes the adjustments you can make to the appearance of the POS Invoice window so that it best suits your requirements.
---

The 'POS' card in the Local Machine setting in the User Settings module contains various options that you can use to change and move the elements in the POS Invoice and Bar Tab windows. As the Local Machine setting is stored separately in each client database, you will need to make these changes on each till or cash machine (or you can have different settings on each till). If a till will have a live-sync connection with the server, you can make these changes in the Local Settings setting in the Technics module before connecting the till to the server. The changes will then be sent to the till as part of the synchronisation process.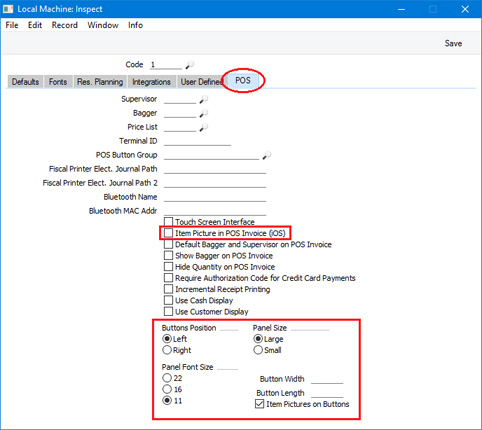 The options that you choose will be used in the POS Invoice window and the Bar Tab window. For brevity, only the POS Invoice has been mentioned in the descriptions below. Similarly, only the Local Machine setting has been mentioned, without referring to the Local Settings setting.