HansaManuals Home >> Standard ERP >> Point of Sales >> Reports
Previous Next Entire Chapter in Printable Form Search
This text refers to program version 8.4
N/L Transfer, Cash Invoices
This report lists POS Invoices entered in the specified period and lists the Account postings and Tag;/Object assignments that will result from them. Remember that POS Invoices will not be posted to the Nominal Ledger immediately but that this will be done when you enter a
POS Balance
record and mark that record as OK.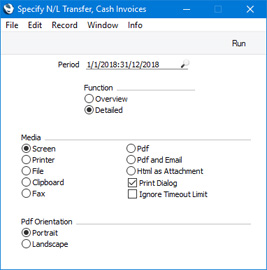 Period

Paste Special
Reporting Periods setting, System module


Enter the report period. The report will list POS Invoices entered during this period. The first period listed in the Reporting Periods setting will be used as a default.


Function


Use these options to specify the level of detail that will be shown in the report.


Overview


This version of the report summarises the amounts that will be posted to each Account/Object combination from the POS Invoices entered during the report period.


Detailed


In addition to the information shown in the Overview, the Detailed version of the report also lists the POS Invoices that were entered during the report period.

---
Reports in the Point of Sales module:

N/L Transfer, Cash Invoices

Go back to: