HansaManuals Home >> Standard ERP >> Customers, Suppliers and Contact Persons >> Contact Register
Previous Next Entire Chapter in Printable Form Search
This text refers to program version 8.4
Create Menu - Contact - Email
This page describes the 'Email' function on the
Create
menu in the Contact record window. If you are using iOS or Android, the 'Email' function is on the + menu.
---

The 'Email' function allows you to send an email to a Contact. To do so, first open the Contact in a record window and then select 'Email' from the Create menu(Windows/Mac OS X) or + menu (iOS/Android). The window shown below will appear, where you can create a new Mail.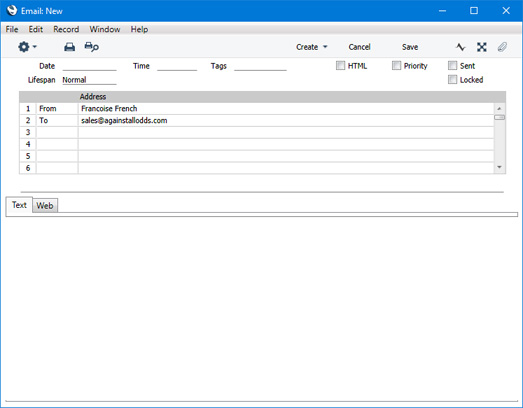 The new record will be opened in a window entitled 'Mail: New'. This means that it has not yet been saved. The current user will be the sender of the Mail, and the To field will contain the email address of the Contact. After you have added a subject and written a message and when you are then ready to send the Mail, tick the Sent box. Finally, save the Mail by clicking the [Save] button (Windows/Mac OS X) or tapping ? (iOS/Android). If you are using the
Lock and Send emails Automatically
option in the
Mail and Conference Settings
setting in the Email and Conferences module and the Mail contains an external email address (i.e. one with the @ sign), it will now be sent automatically. If you are not using this option, select 'Send email' from the Mail's Operations or Tools menu after you have saved the Mail. Finally, close the Mail using the close box (Windows/Mac OS X) or by tapping < (iOS/Android). You will be returned to the Contact window.
If the function does not create a Mail, the probable causes are:

The current user does not have a Mailbox.

The Contact does not have an email address.

The Contact has not been saved.
To be able to use this function, the
Email and Conferences
option in the
Configuration
setting in the System module must be ticked. If you wish to use this function to send Mails to other members of staff, the intended recipients must have Mailboxes. If you need to send Mails to Customers, you must be using the External Gateway module, and you must have configured the Email SMTP Server setting. Please refer
here
for full details about the mailing facilities in Standard ERP.
---

The Contact register in Standard ERP:

Go back to: