HansaManuals Home >> Standard ERP >> System >> Reports
Previous Next Entire Chapter in Printable Form Search
This text refers to program version 8.5
Transaction Checking
This page describes the Transaction Checking report, which is located in the System and Data Integrity modules.
---

The Transaction Checking report is located in the System and Data Integrity modules. It is a list of Sub System records that have been marked as OK but for which there is no corresponding Nominal Ledger Transaction. Usually this will be because the relevant option in the Sub Systems setting has not been selected.

If you need a list of Nominal Ledger Transactions that were created from Sub System records where the Sub System records no longer exist or are no longer marked as OK, use the Subsystems Checking report.

When printed to screen, the Transaction Checking report has the Standard ERP Drill-down feature. Click (Windows/macOS) or tap (iOS/Android) on any record number (e.g. Invoice Number) in the report to open an individual Sub System record, or on a Customer or Supplier Number to open the relevant Contact record.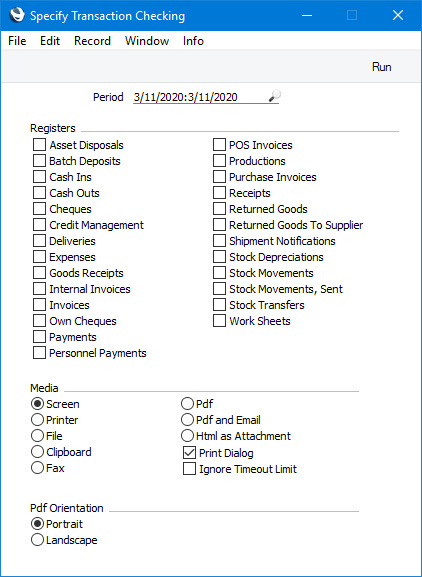 Period

Paste Special
Reporting Periods setting, System module


Specify the period to be covered by the report. Unusually, the default period is the current date, not the first period in the Reporting Periods setting.

The report will check the records in the registers specified below that were entered within the period specified here and that have been marked as OK. If there is no related Nominal Ledger Transaction, the record will be listed in the report.


Registers


Choose the Sub System registers that are to be included in the report by selecting the appropriate radio button options.

---
Reports in the System module:

Go back to: