HansaManuals Home >> Standard ERP >> Sales Ledger >> Loyalty Cards
Previous Next Entire Chapter in Printable Form Search
This text refers to program version 8.0
Preparing for Loyalty Cards - Loyalty Card Membership Levels
The first step in configuring the Loyalty Card feature is to record the various Membership Levels in your Loyalty Card structure in the Loyalty Card Membership Levels setting.
Ensure you are in the POS or Restaurant modules and click the [Settings] button in the Navigation Centre (or use the Ctrl-S/⌘-S keyboard shortcut). Double-click 'Loyalty Card Membership Levels' in the resulting list: the 'Loyalty Card Membership Levels: Browse' window opens, listing the records previously entered. Double-click to modify or select 'New' from the Create menu to enter a new record.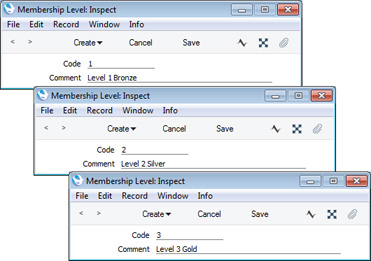 In the Loyalty Card Membership Levels entry window, you should enter a code and a short descriptive text. The code may contain up to five characters, and you may freely mix letters and numbers. Click [Save] to save changes.
You must assign a Membership Level to each new Loyalty Card, otherwise you will not be able to save it. So, you must add at least one record to this setting, even if you will not be using Membership Levels in reality. It is recommended that you also fill out the first row in the Loyalty Card Membership Level Structure setting, because the Membership Level in this row will be offered as a default in new Loyalty Cards.

---

Loyalty Cards in Standard ERP:

Go back to: