HansaManuals Home >> Standard ERP >> Customers, Suppliers and Contact Persons >> Contact Register
Previous Next Entire Chapter in Printable Form Search
This text refers to program version 8.4
Entering a Contact - Personal Card
This page describes the fields on the 'Personal' card of the Contact record. Please follow the links below for descriptions of the other cards:
---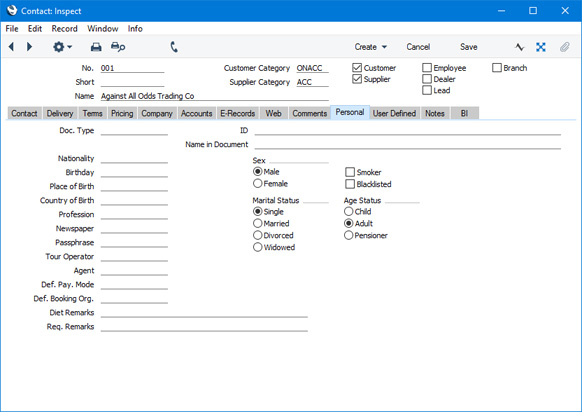 The 'Personal' card allows you to record various pieces of personal information about a Contact that is a Guest that you have entered using the Hotel module.
Doc. Type

Paste Special
Contact Document Types setting, Sales Ledger


You can use the Doc. Type field for one of two purposes, as follows:


If a Contact is a Hotel Guest, use the Doc. Type field to record the type of ID document that the Guest shows when they check in. Example values might be "passport" or "driving licence".

In Argentina, if a Contact is a Customer or a Supplier, the Doc. Type field should contain a code representing the type of ID document that the Contact has. For example, if the Contact is registered with the tax authority as a company, the type of the ID document will usually be "80", but if the Contact is a private individual, it might be "86" or "96". This code will be used in e-invoicing and tax exports.
---
The Contact register in Standard ERP:

Go back to: