HansaManuals Home >> Standard ERP >> System >> Settings
Previous Next Entire Chapter in Printable Form Search
This text refers to program version 4.0
Countries
This setting is used to define the correct spelling of the name of each country, in different Languages. This country name can be used to produce correct business documents in several different Languages.
Double-click on 'Countries' in the 'Settings' list to view a list of Countries already entered. Then double-click on one of the rows, e.g. FIN to bring up the record for Finland.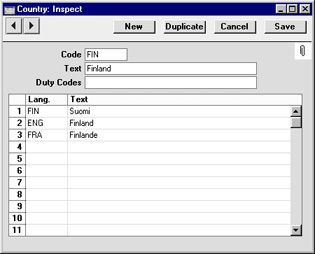 Use 'Paste Special' to enter the Language Code in each row, together with the appropriate translation.
The Duty Code is used by the Customs module: please refer to your local Hansa representative for details.