HansaManuals Home >> Standard ERP >> Assets >> Settings
Previous Next Entire Chapter in Printable Form Search
This text refers to program version 4.2
Departments
Use this setting to record the different Departments in your business. Each Asset can be assigned to a Department. When you move an Asset from one Department to another, you can easily record this change.
To enter a Department, open the 'Settings' list in the Assets module and double-click 'Departments'. The 'Departments: Browse' window is opened, showing Departments already entered. Click [New] in the Button Bar or use the Ctrl-N (Windows and Linux) or ⌘-N (Macintosh) keyboard shortcut. Alternatively, select a Department similar to the one you want to enter and click [Duplicate] on the Button Bar.

The 'Department: New' window is opened, empty if you clicked [New] or containing a duplicate of the highlighted Department.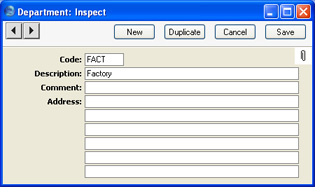 Code


Enter a Department Code.


Name


Department Name.


Comment


Any comment.


Address


The Address of the Department.