HansaManuals Home >> Standard ERP >> Nominal Ledger >> Reports
Previous Next Entire Chapter in Printable Form Search
This text refers to program version 5.3
Accrual Report
This report is a list of Invoices with an N/L Accrual specified on flip C (in the case of Purchase Invoices) or flip B (in the case of Sales Invoices). For each Invoice, it lists the accrued postings that have not yet been debited to Purchase Accounts or credited to Sales Accounts. It therefore provides an indication of the value of these accrued postings, and also provides a timetable for when these accrued postings will be transferred from Accrual Accounts to Sales or Purchase Accounts. For more details about N/L Accruals, please click
here
.
When printed to screen, the Accrual Report has the HansaWorld Enterprise Drill-down feature. Click on an Invoice Number in the report to open the Nominal Ledger Transaction for that Invoice. You can then open the Invoice itself by selecting 'Open Subsystem Record' from the Operations menu. You can also click on a Simulation Number in the report to open an individual Accrual Simulation record.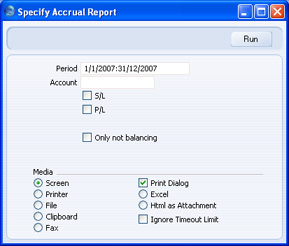 Period

Paste Special
Reporting Periods setting, System module


The report will list Purchase and Sales Invoices whose Transaction Dates fall in the period specified here and with an N/L Accrual specified on flip C (in the case of Purchase Invoices) or flip B (in the case of Sales Invoices).


Account

Paste Special
Account register, Nominal Ledger/System module


Range Reporting Alpha

If you specify an Account (or range of Accounts) here, the report will list Invoices that use that Account as an Accrual Account. This is the Account that is quoted in the N/L Accrual record specified on flip C of an accrued Purchase Invoice or on flip B of an accrued Sales Invoice.


S/L


Use this option if you like accrued Sales Invoices to be listed in the report.


P/L


Use this option if you like accrued Purchase Invoices to be listed in the report.


Only not balancing


By default, every accrued Invoice in the selected Ledger and from the specified period will be listed in the report. If you use this option, only those Invoices where the accrued value is less than the Invoice value will be listed. These are Invoices where at least one Transaction has been created from a balancing pair of postings in the Accrual Simulation, moving part of the Invoice value from the Accrual Account to the Sales or Purchase Account.