HansaManuals Home >> Standard ERP >> Items and Pricing >> Changing the Prices of Items
Previous Next Entire Chapter in Printable Form Search
This text refers to program version 8.3
Using Access Groups to Control Changing Prices in Sales Transactions
When you enter an Item in a sales transaction (e.g.
Quotation
,
Order
or
Invoice
), the Unit
Price
according to the valid
Price List
for the
Customer
will be brought in automatically. If the Customer has no Price List specified, or the Item is not on the Price List in question, the Base Price from the
Item
record will be brought in. You are then free to change this Unit Price in the sales transaction if necessary.
You can prevent a particular user or group of users from changing Unit Prices, percentage discounts and row Sums in sales transactions using Access Groups. To do this, deny access to the 'Change Unit Prices' Action: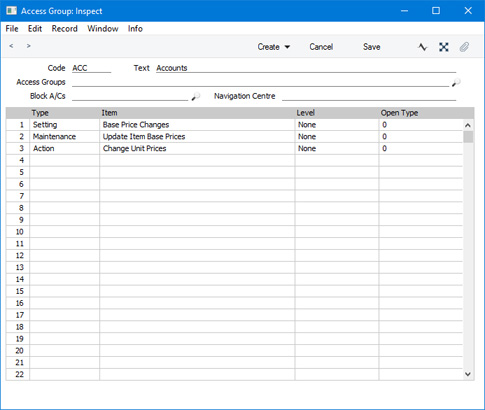 A user that has been denied access to the 'Change Unit Prices' Action can still change the Price List in a Quotation, Order or Invoice. If you want to prevent this as well, deny access to the 'Change Prices' Action: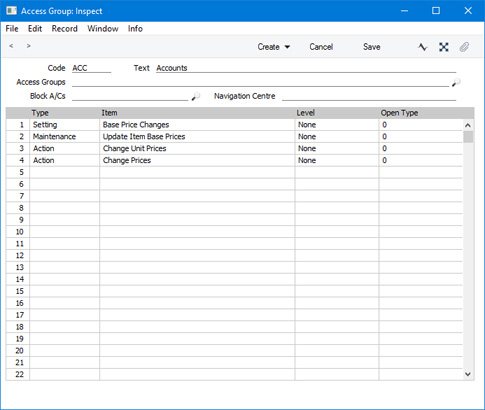 Please refer
here
for more details about controlling prices in sales transactions.
---
Changing and controlling prices in Standard ERP:

The Base Price Changes setting (Changing Prices of Items in Batches)

Using Access Groups to Protect Prices in Sales Transactions

Go back to: