HansaManuals Home >> Standard ERP >> Job Costing >> Settings
Previous Next Entire Chapter in Printable Form Search
This text refers to program version 8.5
Project Settings - On Invoice Card
This page describes the 'On Invoice' card in the Project Settings setting. Please follow the links below for descriptions of the other parts of the setting:
---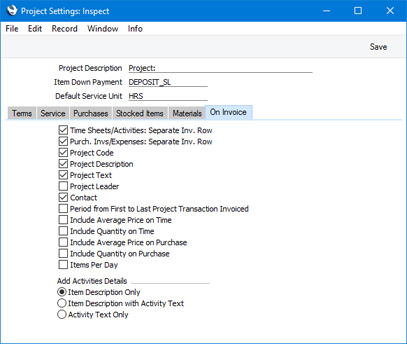 The options on the 'On Invoice' card are also located on the
'Invoicing'
card of each Project. Use the options here to specify whether each option will be selected by default in each new Project. You will be able to change the selection in an individual Project.
Time Sheets/Activities: Separate Inv Row


Purch Invs/Expenses: Separate Inv Row


Project Code, Project Text, Project Description, Project Leader, Contact


Period from First to Last Project Transaction Invoiced


Include Average Price on Time


Include Quantity on Time


Include Average Price on Purchase, Include Quantity on Purchase


Items Per Day


Add Activities Details

---
Settings in the Job Costing module:

---
Go back to: