HansaManuals Home >> Standard ERP >> Working Environment >> Windows
Previous Next Entire Chapter in Printable Form Search
This text refers to program version 8.0
Mobile Phone
To call a Contact via your mobile phone, first open the
'Business Communicator'
window: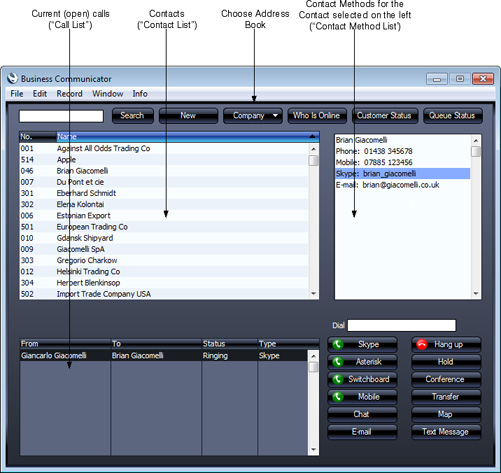 Click on the Contact in the Contact list and then click on their telephone or mobile number in the Contact Method list. Alternatively, enter a number in the Dial field. Then, click the [Mobile] button. Your mobile phone will be activated, and a call will be established between you and the Contact, so the Contact's telephone will ring immediately. You can end the call from the phone or by highlighting the call in the Call list in the 'Business Communicator' window and clicking the [Hang up] button.
Calling a Contact via your mobile phone requires the following:

You must be using the Business Communicator for Handsets option in the Program Mode register in the Technics module, and you must have specified a Handset Port in the same register.

You must have the HansaWorld Business Communicator For Handsets application installed on your mobile phone, which must be a Symbian S60 3rd edition device. The application must be running and you must have logged in to your Standard ERP server using your usual Signature and Password. This requires you to have entered the IP address of the server and the Handset Port from the previous step in the Company register on the device.
---
Types of window in Standard ERP:

Go back to: