HansaManuals Home >> Standard ERP >> System >> Settings
Previous Next Entire Chapter in Printable Form Search
This text refers to program version 4.0
Sales Groups
Sales Groups are used to divide the employees of your company into groups. These groups will be used by the Limited Access module.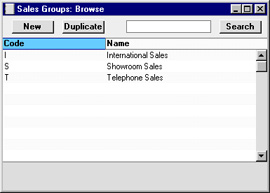 The 'Sales Groups: Browse' window lists the available Sales Groups: to enter a new record, click the [New] button in the Button Bar. The 'Sales Group: New' window appears: enter the details as appropriate and click [Save] to save the new record.
Once you have defined your Sales Groups, you should assign one Group to each Person record, using the Sales Group field on the 'Access' card: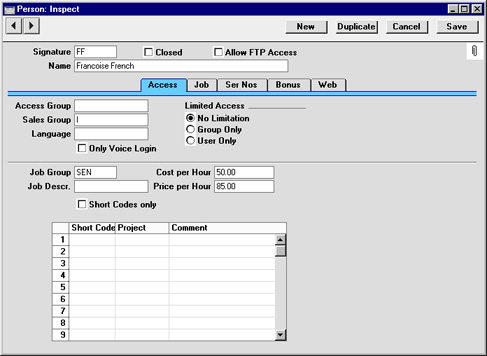 Many registers (e.g.
Customers
,