HansaManuals Home >> Standard ERP >> CRM >> Activities and Tasks
Previous Next Entire Chapter in Printable Form Search
This text refers to program version 8.4
Operations Menu - Activity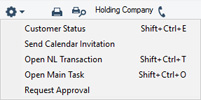 The Operations menu for the 'Activity: New' and 'Activity: Inspect' windows is shown above.
If you are using Windows or Mac OS X, you can open the Operations menu by clicking the button with the 'cog' icon (shown highlighted in the illustration above). If you are using iOS or Android, you can access the Operations menu functions through the Tools menu (with 'wrench' icon).

Note that in Standard ERP version 8.0, some functions that were previously on the Operations menu were moved to the Create menu.

Please follow the links below for details about each function on the Operations menu:

---
Activities and Tasks in Standard ERP:

Go back to: