HansaManuals Home >> Standard ERP >> Stock >> Reports
Previous Next Entire Chapter in Printable Form Search
This text refers to program version 5.1
Item/Delivery Mode Statistics
This report analyses Deliveries by Delivery Mode, showing the value of goods delivered using each Delivery Mode in the report period.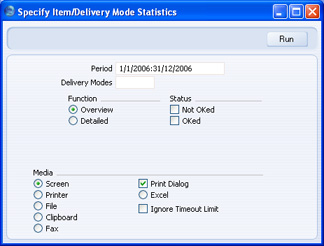 Period

Paste Special
Reporting Periods setting, System module


Enter the start and end date of the report period, separated by a colon (:). The first record in the Reporting Periods setting is offered as a default.


Delivery Modes

Paste Special
Delivery Modes setting, Sales Orders module


Range Reporting Alpha

Specify here the Delivery Modes that are to be included in the report.


Status


Use these options to specify whether approved and/or unapproved Deliveries are to be included in the report.
Previous Next Top Entire Chapter in Printable Form