HansaManuals Home >> Standard ERP >> Service Orders >> Settings
Previous Next Entire Chapter in Printable Form Search
This text refers to program version 4.2
Stock Settings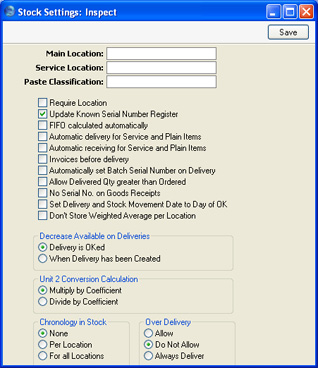 As far as the Service Orders module is concerned, two options on this screen should be considered. Please click
here
for full details of the other options in this setting.
Update Known Serial Number Register


This option will be useful if the Items repaired by your business were probably also originally sold by you.

The Known Serial Number register is a list of Serial Numbers for Items sold by your company. If this option is switched on, this register will be updated whenever an Invoice is approved and will be made available to the Service Orders module. When such an Item is subsequently brought in for repair, this register will allow Hansa to determine whether it is still under warranty using the Invoice Date and the Warranty Months field on the 'Recipe' card of the Item screen.

The Known Serial Number register is updated when an Invoice is approved, not when a Delivery is issued. The warranty period begins with the Invoice Date, not the Delivery Date.


Service Location

Paste Special
Locations setting, Service Orders/Stock modules


When receiving into service stock Items belonging to Customers which you are to repair (using the Service Stock Transaction register), they will be stored by default in the Location specified here.